You'd want to provide your regular customers with personalized suggestions for ordering, resulting in better customer retention and experience. That's where the point-of-sale (POS) systems come into play, but there are many more reasons why the right restaurant POS software can act as a catalyst for your business. 
With 2024 upon us, it's essential to take a closer look at your current restaurant management software and evaluate whether or not it's equipped to provide the features you may require to grow your business further. 
In today's date, POS systems are more versatile than it was a decade back. That brings us to this question – how do you know if these are the 'IT FEATURES' you'll need in your restaurant POS software? We've done the homework for you to give your business the best chance of getting ahead. 
In this blog, we break down why Devourin is the ultimate POS software for your business needs. It not only provides unique features such as consolidated reporting and analysis, kitchen order tickets, table management, and advanced inventory management but also is future-ready, streamlining your daily restaurant operations and catering to your growing business. Read along to understand the key benefits of upgrading to a restaurant POS system! 
What is a restaurant POS software?
If you're a new restaurant owner or planning to enter the restaurant industry soon, here's a quick and simple definition of a restaurant POS system:
A Restaurant POS (Point of Sale) software is a computerized system that facilitates the sale of food and beverages in a restaurant. POS software helps restaurant owners manage various aspects of their business, including taking orders, processing payments, tracking inventory, order management, and generating operational reports. By automating many of the manual tasks associated with running a restaurant, a POS system can help increase efficiency, improve accuracy, and provide valuable insights into business performance.
What are the best restaurant POS system features?
Below are some of the most important features that you can find on the Devourin eco-system: 
Integrated Billing System & Flexible Payment Options

Kitchen Order Ticket 

Table Management 

Smart Digital Menu Management 

Inventory and Recipe Management 

Customer Feedback

Customer Relationship Management

Advanced Analytics and Reporting
8 POS features that can help expand your business bottom line
Keep reading to know why "now" is the best time to invest in a restaurant POS system or if you need to upgrade to a shinier model. 
1. Integrated Billing System and flexible payment options:
Restaurant POS software is an invaluable tool to make your restaurant billing and transaction management efficient, quick and error-free. With this feature, the support team can directly input the orders into the restaurant billing system. This streamlined process automatically computes the total bill, encompassing taxes and any applicable add-on charges. 
With the introduction of UPI payments, customers now enjoy the convenience of swift and smooth transactions. So it's crucial to have a seamless billing process in place and inclusivity is the way to go forward. Make sure that your restaurant POS software has multiple payment options which include debit & credit cards, mobile wallets, and cash. Additionally having a QR code for payment option is surely a cherry on the top especially for quick-service restaurants.
2. Kitchen Order Ticket:
The main purpose of KOT is to intimate the food order of the customer to the kitchen staff. A typical KOT consists of details such as table number, server's name, covers, ordered item, date, time, and quantity. But why is it important? So that your support team can strategically avoid the below-mentioned points: 
Waitstaff attending their family or friends might charge less or none at all without a proper checking system intact. 

Consumption of food during or after duty works without anyone's knowledge. 

Upsurge in food cost and pilferage rate 
Additionally, modern systems often integrate kitchen displays (KDS), which electronically display the orders in the kitchen, ensuring smooth workflow between the front-of-house and back-of-house support teams. 
3. Table Management:
This is a feature that can effectively help improve the overall dining experience of the customer. But how is that? Well, with this tool one can create, customise and modify floor plans, handle reservations, and assign orders to specific tables for smooth operations. It makes it easier for the staff to monitor the real-time status of each table, track orders, and manage turnover leading to accurate and quick service. 
4. Smart Digital Menu Management:
Having a seamless integration of menu management not only simplifies the ordering process, (whether online ordering or dine-in) but also aids in complete control of inventory, customising menu items, and operational effectiveness, resulting in better customer experience. 
With an effective menu management system in place, it can create opportunities for upselling by leveraging customer data. 
One of our users has greatly benefited by switching to a better menu management software, this is what they have to say to us:

5. Inventory and Recipe Management:
Daily chaos is an integral part of business operations. Ain't it? So when an effective technology is available to reduce the chaos percentile, why not take its full advantage? With this feature of inventory management and recipe management, you can easily keep track of your food, beverage, supply inventory levels, expiring products and ensure minimum wastage. 
Devourin inventory & recipe management system allows real-time monitoring of stock levels, automates ordering processes, raises purchase orders to vendors, generates reports on inventory utilization and waste, and helps optimize food cost. 
So, are you ready to say goodbye to spreadsheets? It's time to Streamline your daily restaurant operations, reduce human error, and meet customers' expectations.
6. Customer Feedback:
I wise person once said, "Feedback is the breakfast of champions. Without it, you are destined to remain in the realm of mediocrity." 
Unlock the secret sauce of customer satisfaction with Devourin Echo's link-based feedback system. This advanced feedback system is the most efficient way to gather insights about specific menu items and the individuals serving them, helping you make informed decisions. With Echo, you can always be ready to provide the best service to your customers.  
7. Customer Relationship Management:
In 2023, better customer experience leading to higher retention remains a key focus for businesses. And that is exactly what a CRM-enabled restaurant POS software can help you achieve.
A capable CRM can carry out helpful features like storing customer data, generating useful insights from consumer behaviour and motivating buyers through loyalty programs, benefits, sending personalised birthday wishes, and exclusive member offers – after all happy customers are loyal customers.
8. Advanced Analytics and Reporting:
All the above-discussed features won't even matter if your POS system doesn't provide you with advanced analytics and reports. Restaurant analytics can come in handy while making quick decisions. With the analytics tool, you can have a clear view of sales, categories and performance of different items from a single dashboard. You don't have to be a pro techie to understand these sales data – a user-friendly interface with supported graphs and actionable insights makes it a child's play. No more hassle when presenting these data to your support team during strategy calls. 
Add-on features to look for in a Restaurant POS software and hardware options
If you have multiple full-service restaurants to run or maybe a cute little food truck, these add-on features will only help boost your sales. 
Third-party aggregators: 
These aggregators work as online ordering platforms to help connect customers with restaurants of their choice through mobile apps like Swiggy and Zomato. Now we understand that these online orders can be difficult to manage and this is exactly why you need a restaurant POS system that supports the integration of these online ordering platforms – all from a single dashboard.
Digital Displays:
While you are planning to upgrade your POS hardware options like receipt printers, KDS (Kitchen display system), barcode scanners, and cash drawers, bring in a digital display to place outside your restaurant. There is a growing trend for these displays to attract your potential customers to pay you a visit. A very efficient way to up your footfall and sales game. 
Hybrid Cloud Architecture:
Another essential key feature to make your restaurant management software a one-stop solution is having a hybrid cloud architecture. But why? To ensure an uninterrupted service of your website and/or reservation apps. The perfect combination of on-site technical support and online-based solutions boosts the overall reliability of the system. 
Tableside Ordering:
The key benefits of tableside ordering include the ability for customers to pursue the menu, place orders for F&B, and make payments using their own smart devices such as mobile phones or tablets, through a tabletop kiosk, or with the assistance of restaurant staff. This feature significantly reduces errors in manual table service. 
Top POS system key takeaways
By upgrading to an adept billing system that offers all these features we discussed, you're giving your business the space to grow and boost sales. So, are convinced yet to start the upgrading process? Head to the Devourin website and book a free demo. 
How switching to Devourin POS software helped restaurant businesses:
Following are some of the greatly benefited restaurant owners who have seen a significant rise in sales of their food business and this is what they had to share: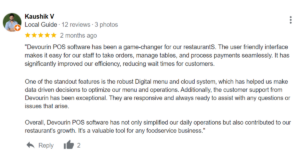 Frequently Asked Questions (FAQs)
What is the best POS system for fast food restaurants?
Before choosing a POS system for your fast-food restaurant, understand your immediate requirements, budget, and scalability. Devourin is a good option as they provide all the basic requirements including but not limited to an integrated billing system, KOT, digital menu, advanced analytics with real-time sales data, table management, built-in CRM and loyalty programmes. Do you want to explore more? Book your free demo today.
How much does restaurant POS software cost?
The cost of a restaurant POS software depends on several factors, including the features offered, the size of the restaurant, whether or not they have a number of outlets in multiple locations, and whether the software is a hybrid cloud-based or on-premises. So the price range can be anywhere from a few thousand bucks on a monthly retainer for basic features and can go higher according to your needs, often requiring an initial investment.